Deep Convective Clouds & Chemistry Experiment (DC3)
Overview
 

The Deep Convective Clouds and Chemistry (DC3) field campaign is investigating the impact of deep, midlatitude continental convective clouds, including their dynamical, physical, and lightning processes, on upper tropospheric (UT) composition and chemistry. The campaign is making use of extensively instrumented aircraft platforms and ground-based observations.

Salina, Kansas is the base location for the three research aircraft and the project operations center at the Salina Airport, while a network of ground-based radar, lightning antenna stations and instrumentation in Colorado, Oklahoma and Alabama is used to support DC3 during the project from 15 May - 30 June 2012. Click for more information about Strategy and Experimental Design.

DC3 is motivated by determining the role of thunderstorms on the concentration of ozone in the upper troposphere, where ozone acts as a greenhouse gas.
Goals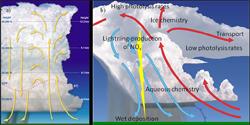 Schematic of a) a mature airmass thunderstorm and b) a squall line vertical cross section. Taken from the NOAA National Weather Service http://www.srh.weather.gov/srh/jetstream/index.htm. Superimposed on panel b are processes affecting chemical species that are ingested into storms.
To quantify and characterize the convection and convective transport during active convection, investigating a) storm dynamics and physics, b) lightning and its production of nitrogen oxides, c) cloud hydrometeor effects on wet scavenging of species, and d) chemistry in the anvil.
To quantify the changes in chemistry and composition after active convection, focusing on a) 12-48 hours after convection and b) the seasonal transition of the chemical composition of the upper troposphere.
DC3 data can be found in the NCAR EOL Archive. Airborne data are also in the NASA Data Archive.
Science Outcomes and Highlights
Convective Transport of Soluble Trace Gases and Aerosols
Mixing between the upper troposphere and lower stratosphere 
Production of Ozone Downwind of Convection
See the entire publications list.
News story at Inside Science TV, Jul 9 2013: Thunderstorms Affect Air Pollution.
The following documents are available for download.