FRAPPÉ - Front Range Air Pollution and Photochemistry Éxperiment
The NCAR FRAPPÉ report is now public
This report has been prepared by NCAR/ACOM for the Colorado Department of Public Health and Environment
Download here:   Report     Appendix
2017 Science Team Meeting    2-3 May 2017, UCAR Center Green, Boulder, Colorado
AGU Fall Meeting, San Francisco, 14-18 December 2015
We invite you to submit your abstract to the session on:"Air Quality Research: From Emissions to Impact"
Degraded air quality is a serious health and environmental concern and is caused by direct emissions as well as secondary products formed in the atmosphere. Emission sources are often highly diverse, and their air quality impacts are a complex function of transport, mixing, and photochemical processes.This session invites studies of the photochemical evolution of multiple local sources of pollution and their impacts on air quality and photochemical oxidant formation. The session focuses on the interactions and impacts of varied emissions sources, including mixing urban pollution with emissions from oil and gas extraction activities or agricultural sources, the interaction of anthropogenic and natural emissions, and combinations of biogenic or wildfire emissions with anthropogenic emissions. We invite field campaign data analysis and modeling studies that assess these interactions and their relevance to air quality.
Primary Convener:  Gabriele Pfister, National Center for Atmospheric Research, Boulder, CO, United States
Conveners:  Ann Marie G Carlton, Rutgers State University, New Brunswick, NJ, United States, Gregory J Frost, NOAA, Earth System Research Laboratory, Boulder, CO, United States and Patrick J Reddy, APCD-TSP-B1, Denver, CO, United States
Science Team Meeting: 4-8 May 2015, UCAR Center Green, Boulder, Colorado.
The FRAPPÉ open house will take place on Saturday August 2 2014, from 8am-12pm. Come to NCAR's RAF at Rocky Mountain Metro Airport, tour the research aircraft and learn about the science! (see and download the invitation flyer at bottom of this page)
The UCAR Connect educational page about FRAPPÉ has videos describing the experiment.
The EOL FRAPPE project page provides an overview and links.
The Field Catalog provides forecasting and real-time data and the Plan of the Day.
The Front Range Air Pollution and Photochemistry Éxperiment (FRAPPÉ) field campaign will take place from 7/16 to 8/16, 2014. This is a collaborative effort between the Colorado Department of Public Health and the Environment, the University of Colorado and Colorado State University, UC Berkeley, and other university collaborators, local projects and agencies including local school districts, NASA, NOAA, and NCAR. This mission will be closely coordinated with the NASA DISCOVER-AQ project, which has agreed to conduct their final aircraft deployment in the Colorado Front Range. DISCOVER-AQ brings three aircraft to Colorado. The NASA P-3 is instrumented for comprehensive in-situ measurements, the NASA King Air will measure aerosol parameters with a downward looking LIDAR as well as make integrated column measurements of some tracers. The NASA Falcon will carry the GeoTASO instrument which measures column amounts of a number of tracers as well. We will also be joined by the Mooney TLS aircraft, which will measure CH4 and NMHC emissions at low altitude, bringing the number of research aircraft to five.
Principal Investigators: Gabriele Pfister (NCAR), Frank Flocke (NCAR), Jim Crawford (NASA).
All of the observations that will be made during FRAPPÉ and DISCOVER-AQ are listed in this table of measurements. It demonstrates the impressive suite of measurements we have assembled for this mission.
We have received a grant from the State of Colorado in support of FRAPPÉ data collection for our university collaborators, including aircraft and ground instrumentation. NSF Lower Atmospheric Observing Facilities (LAOF) as well as the NSF Atmospheric Chemistry Program is supporting the C-130 deployment.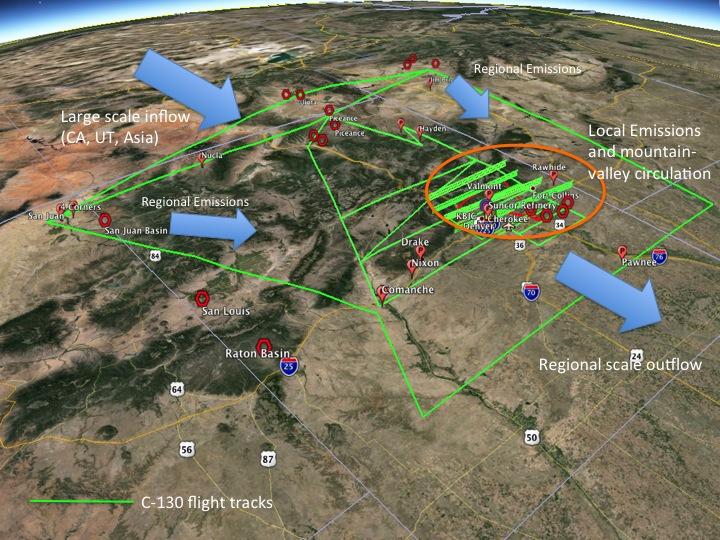 The 4-week intensive deployment of the aircraft is augmented by extensive ground-based activities at some of the established local measurement sites such as the BAO tower, Platte Valley, Niwot Ridge, Rocky Mountain National Park.
We will fly the instrumented NCAR / NSF C-130 aircraft to provide complementary measurements during DISCOVER-AQ, characterizing the local to regional chemical environment including photochemistry, oxidant and aerosol formation and fate, flow and recirculation patterns and large-scale inflow.
Please find downloadable documents and other information such as upload and installation schedules, logistics, etc.under the appropriate tabs on top of the page.
Please email Gabriele Pfister and Frank Flocke for comments or questions.
NEWS:  GeoTASO is joining DISCOVER-AQ and FRAPPÉ - click here to read the news article
Check out the UCAR Connect page on FRAPPÉ here
Check out the NCAR Education&Outreach site on FRAPPÉ here