Research Themes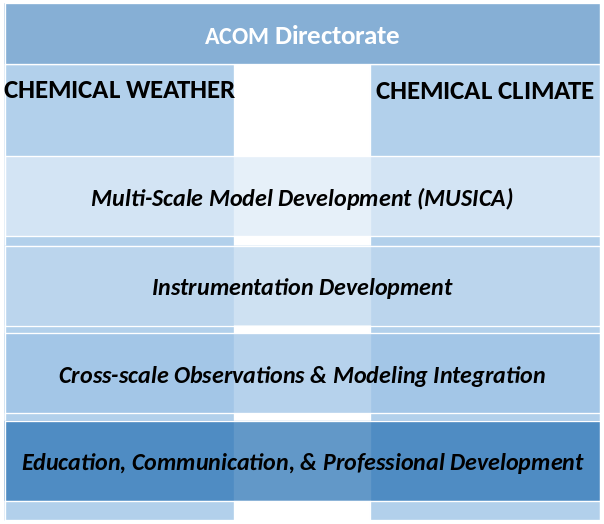 Structure of the ACOM organization with two Sections (vertical) and four Working Groups (horizontal).
Click on the diagram to access the organizational units.
Four cross-cutting working groups focus on the development of models and of instrumentation, to improve the interactions between the experimental and modeling groups and to enhance communication, and carefully disseminate the results of the research and facilitate staff development. Each working group is led by a Chair (Mary Barth, John Orlando, Louisa Emmons, and Rebecca Hornbrook, respectively).
Geoff Tyndall is the overall lead of the field instrument teams and ACOM's liaison to EOL.
Frank Flocke is the ACOM campaign manager and has the oversight of planning, timelines, and instrument needs associated with the different field campaigns.
John Orlando is in charge of the engineering team and closely co-ordinates with Geoff and Frank on any maintenance, upgrade and development needs.
Contact
Please direct questions/comments about this page to: