Publications
From OpenSky
2023 2022 2021 2020
2019 2018 2017 2016 2015 2014 2013 2012 2011 2010
2009 2008 2007 2006 2005 2004 2003 2002 2001 2000
1999 1998 1997 1996 1995 1994 1993 1992 1991 1990
1989 1988 1987 1986 1985 1984 1983 1982 1981 1980
1979 1978 1977 1976 1975 1974 1973 1972 1971 1970
About OpenSky
The NCAR Library develops and manages OpenSky, an open access repository of scholarly works published by scientists, researchers and other staff at the University Corporation for Atmospheric Research (UCAR). The OpenSky repository implements UCAR's Public Access Policy, which supports an open exchange of data and information derived from our research. OpenSky includes peer-reviewed journal papers, technical notes, posters, and presentations that have a formal publication date. The scope of OpenSky does not include "Early View" articles.
ACOM Papers of the Month
For each month we highlight a publication of the month by an ACOM author. You may search OpenSky for a list of all recent ACOM publications.
For Staff
See manuscript guidelines and tracking on ACOM Sundog. Then request approval to submit a manuscript (requires login).
Report a completed publication for deposit into OpenSky (requires login). Publication & Information Dissemination Procedures are governed by UCAR Policy 3-5 (August 2019).
The NCAR Library maintains a directory of Open Access journals that are specific to UCAR areas of research and education.
Web of Science
Go to the NCAR Library page. Under Popular Resources, click on the Web of Science link and authenticate.
Papers Behind Paywalls
The NCAR Library has an agreement with CU-Boulder that provides us access to certain peer-reviewed journals. To retrieve the full text of a scientific paper, there are two methods:
A. Install the NCAR Library Proxy:
Follow the instructions for the NCAR Library Proxy Bookmarklet.
The installed bookmark should look like this in Firefox: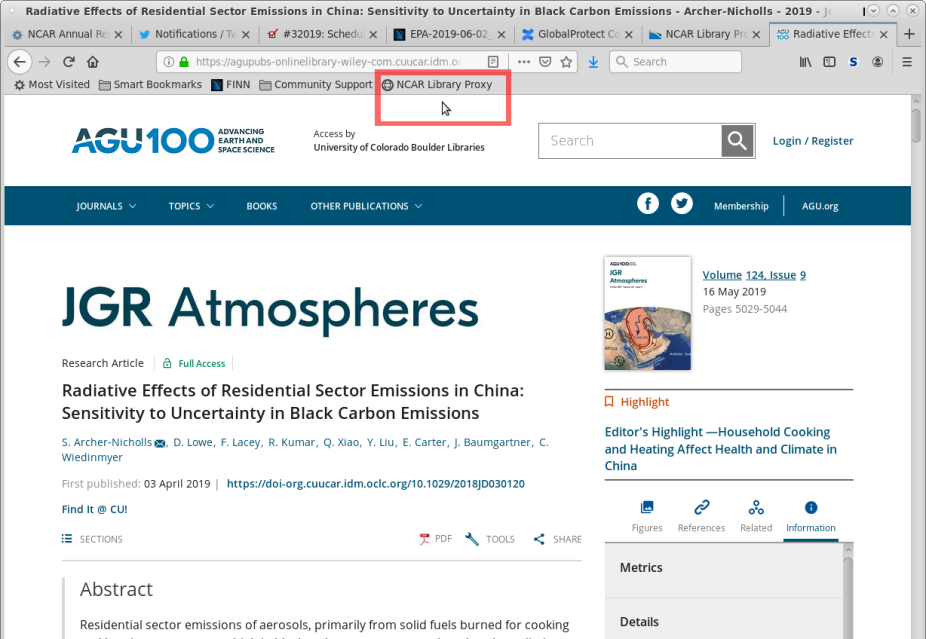 or,
B. Search from the NCAR Library web site as follows:
Go to the NCAR Library web site: https://library.ucar.edu/
Select service: Google Scholar.
Enter search phrase (keywords / publication title) and Search.
Log into the UCAR domain if you are prompted.
Get it @ NCAR Library.
UCAR staff may have access to the full text.
Please contact the NCAR Library for in-person assistance in retrieving journal articles, e-books, and other scientific publications.
Contact
Please direct questions/comments about this page to: