Why did Boulder, CO look like this on May 20, 2023?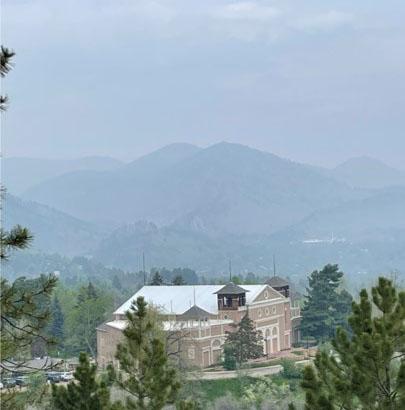 Residents of Boulder, Colorado were greeted with an unwelcome visitor this week: a decline in air quality that left them with hazy skies and concerns about their well-being. The source of this phenomenon, as it turned out, lay far beyond the state borders. Across the Canadian wilderness, raging wildfires had unleashed a cascade of effects that ultimately impacted Boulder's air quality from May 18 to May 24. In this article, we aim to shed light on the connection between these Canadian wildfires and the deterioration of air quality in Boulder, bringing awareness to the public about this concerning environmental issue.
Atmospheric Transport:
The prevailing winds carried the smoke and airborne pollutants southward, spanning thousands of kilometers. This transport phenomenon is not uncommon, as winds can disperse pollutants over great distances, impacting regions far from the source of the fires. In this case, Boulder, Colorado, found itself on the receiving end of the smoke plumes, leading to a significant decline in air quality.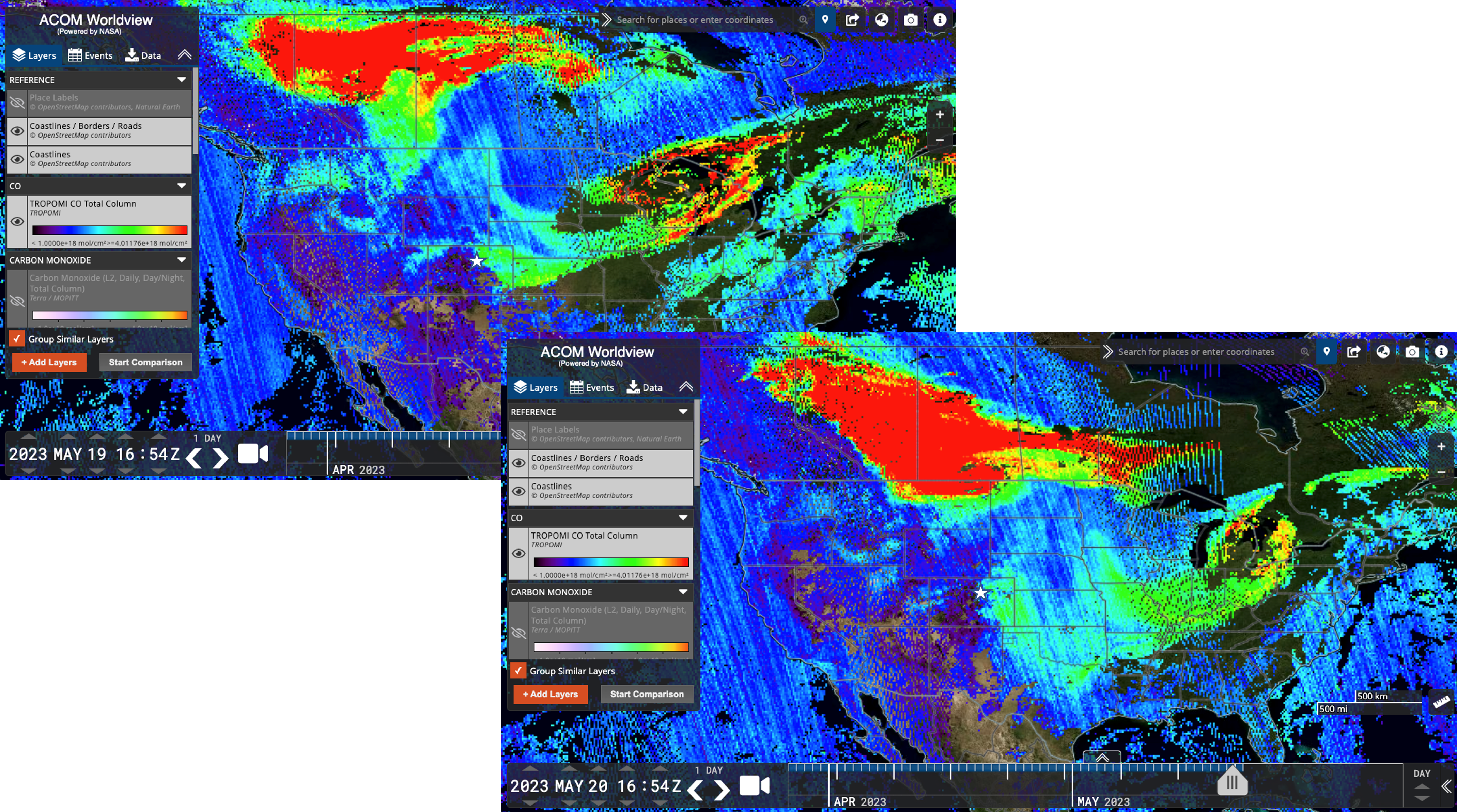 (Figures 1 and 2 above) Carbon monoxide measured on May 19 and 20, 2023. Boulder, CO indicated by the white star, is at the western edge of the plume, although measurements west of Boulder were likely obscured by clouds on May 19. 
MOPITT CO and MODIS/VIIRS Aerosol 20 May, 2023
(Figures 3 and 4 below) MOPITT, which measures around 10 am, did not have coverage over Boulder for this day, but compared to TROPOMI, it demonstrates how the plume moved out of Wisconsin by the afternoon when TROPOMI measures around 1:30 pm.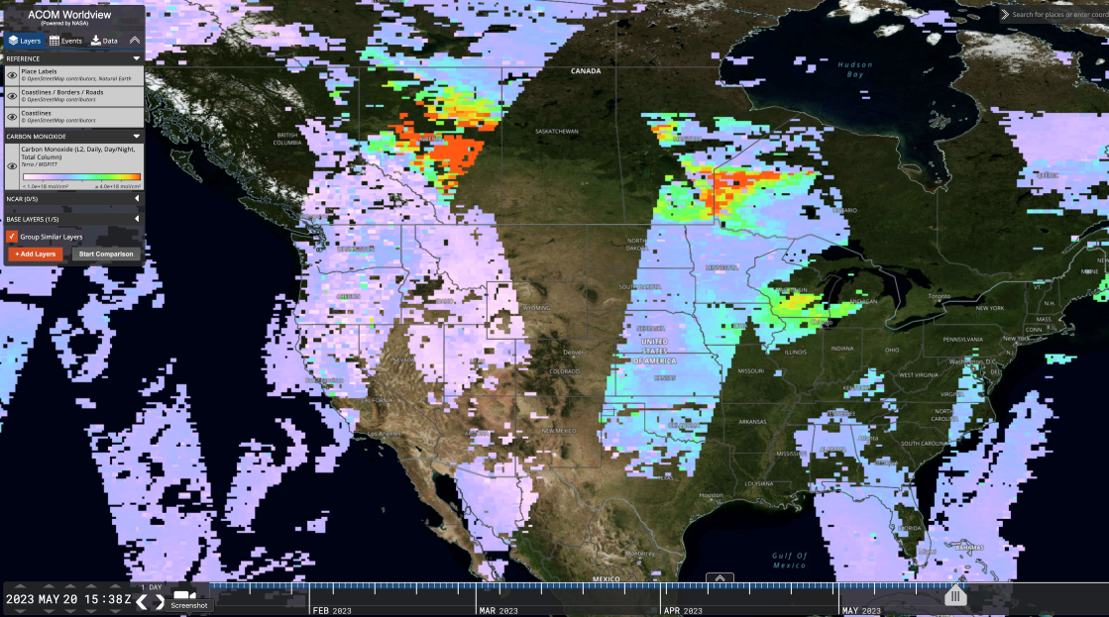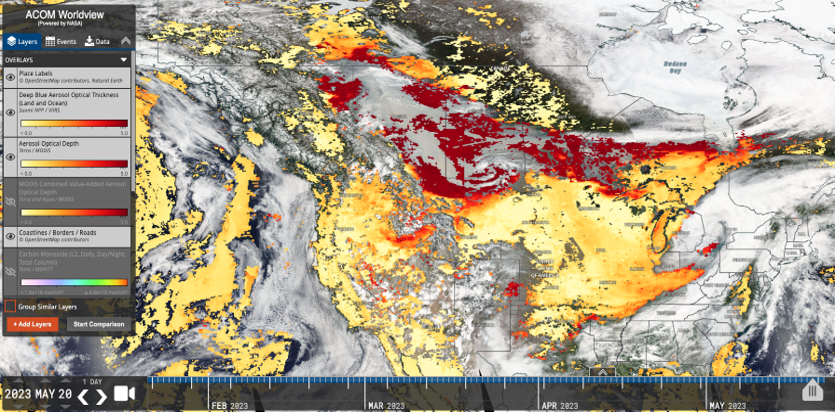 The smoke from the Canadian wildfires contained a complex mixture of particulate matter, volatile organic compounds, and other pollutants. These microscopic particles, known as PM2.5, are particularly concerning due to their ability to penetrate deep into the lungs when inhaled. Exposure to PM2.5 can lead to respiratory issues, aggravated asthma symptoms, and other adverse health effects. (Figure 5 below)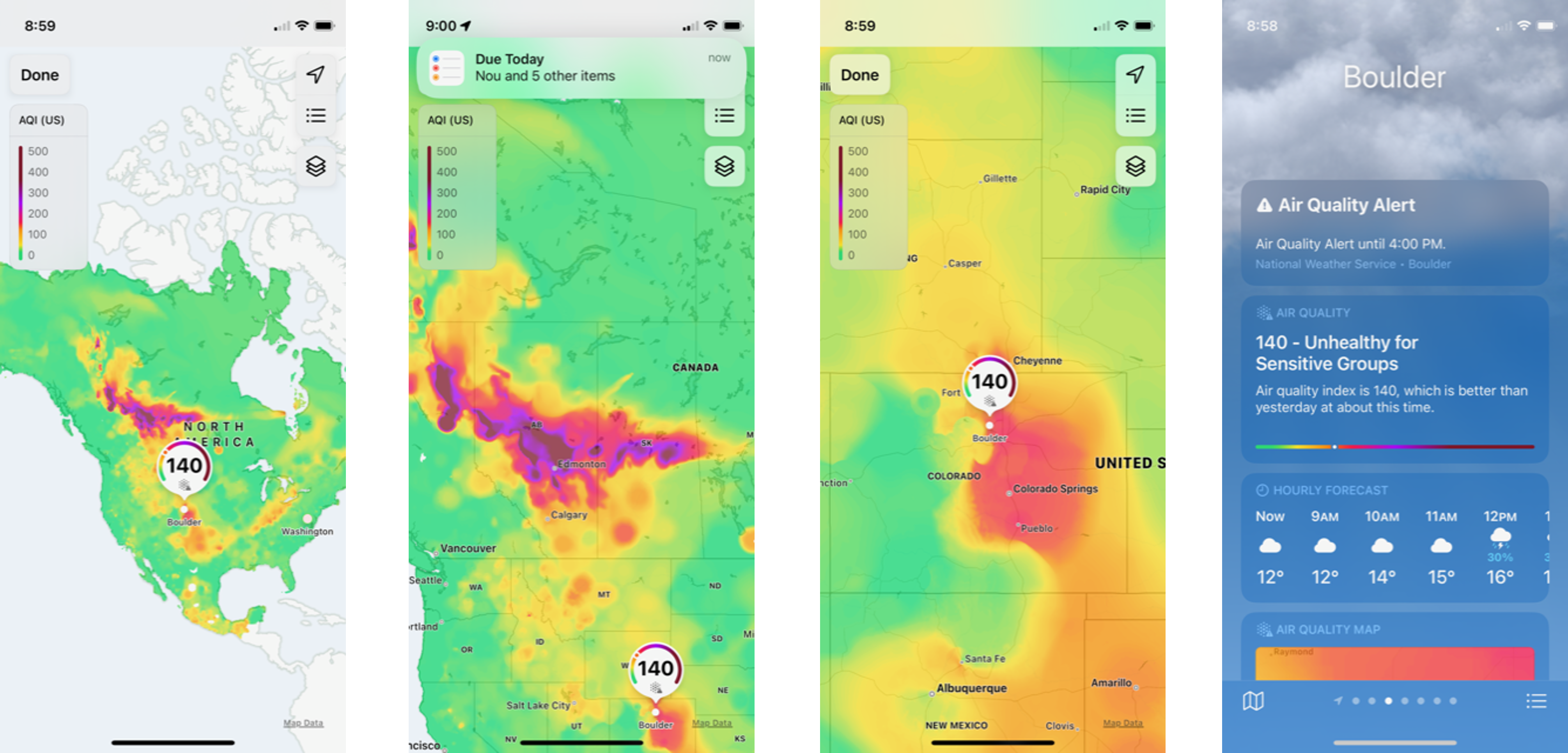 The period from May 18 to May 24 marked a time when the people of Boulder, Colorado, experienced a decline in air quality linked to the devastating Canadian wildfires. The transport of smoke and pollutants from thousands of kilometers away served as a somber reminder of the far-reaching consequences of wildfires. This event underscores the urgency of addressing climate change and adopting proactive measures to protect both local and global air quality. By raising awareness about this issue, we can collectively work towards a healthier and more sustainable future.
Further Reading
https://www.npr.org/2023/05/21/1177429428/canadian-wildfire-smoke-air-quality-warnings
https://weather.com/news/weather/video/alberta-wildfire-smoke-impacting-air-quality-in-us
Teaser image